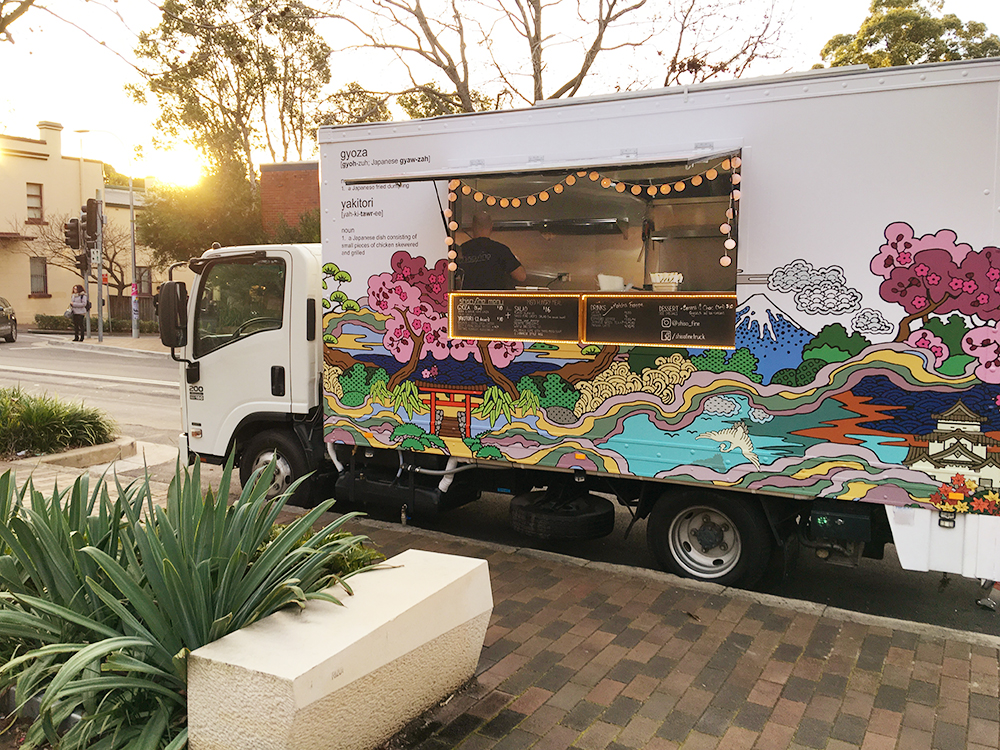 Shiso Fine FOOD TRUCK
Gourmet Japanese street food × HAND Crafted with Love
NOW TAKING BOOKINGS FOR CHRISTMAS PARTIES
get in touch today to see how shiso fine can cater your work or personal christmas party!
We have a large range of delicious canapés, mains and desserts to choose from to make your event effortless.
Fill out our enquiry form today and see how we can make your Christmas party planning easy!
variety of menu options available
Shiso Fine offers contemporary, modern Japanese inspired menu items that not only cater to your tastebuds, but also can meet many dietary requirements and requests. We have vegetarian, vegan, gluten free and dairy free options across our menus. Our Head Chef is more than happy to tailor a menu to suit your needs.
cooked fresh on site
All our food is cooked fresh on site in our mobile food truck kitchen so you are guaranteed to have the freshest food served to your guests.
Get in touch today to see how Shiso Fine can cater to your specific party requirements.
shiso fine
Sydney based Japanese inspired food truck now available for bookings of all occasions - Contact us for a quote today


As featured in:
Sydney's first Japanese Food Truck. Serving up fresh yakitori and hand-made gyoza all over Sydney.

The Truck:
Shiso Fine is the first Japanese Food Truck to join the City of Sydney brigade of diverse street vending options serving Modern Japanese Street Food with a twist.
The Food:
Handmade Pork & Garlic Chive gyoza (pan-fried Japanese dumplings) are our speciality but we also offer a vegetarian/vegan gyoza with mixed asian vegetables and our specialty seasonings. All gyoza are served with our house-made gyoza sauce. The gyoza are cooked in the traditional method of pan frying and then steaming to achieve the consistency of a soft, juicy dumpling with a crispy base.
Other options include chicken yakitori (grilled chicken with a tare glaze) served uniquely on a freshly house-baked baguette with fresh salad & ginger wasabi mayo or in a salad with our signature Tokyo Slaw & sesame dressing. All yakitori are grilled on a lava rock char grill similar to that of a traditional charcoal robata grill and brushed with a homemade tare sauce.
Shiso Fine also offers uniquely crafted desserts. Our most popular being Apple Crumble dessert gyoza with cinnamon sugar, walnut crumble & vanilla ice cream.
These items are only the tip of the iceberg of what Shiso Fine can create. Where our team of dedicated, highly trained Chef's really shine are private functions, serving up contemporary modern Asian cuisine that will lift the calibre of any event.
The Name:
A play on words, Shiso (Japanese: 紫蘇 or シソ) is the more widely used name of the Asian culinary herb Perilla frutescens, belonging to the mint family. In short, it's a delicious and fresh herb often described as being a cross between basil & mint. And thus, "She's so fine" becomes Shiso Fine.
Shiso Fine is available for private bookings and large events. In the past we have catered for charity events, weddings, engagements, corporate Christmas parties, sale events, food truck festivals, birthdays, university ball's & gala's and many private parties. Please contact us for a quote.
Shiso Fine - book us for your next function!
OR
ABOUT THE CHEF
Caitlin Bailey - Owner & Chef - Shiso Fine
Petros Ktenas - Co-owner - Shiso Fine
Formally trained under Jacques Laurent at the Hotel School Intercontinental Sydney, with a Diploma in Commercial Cookery from the City & Guilds of London Institute, Caitlin has worked at some of the most prestigious venues in Sydney over the past decade. Starting her practical training at the Crowne Plaza Hotel Darling Harbour, Caitlin soon moved on to becoming an apprentice Sous Chef at Manly Golf Club, where she became a runner-up in the 2007 Chef's Table competition.
Caitlin helped to launch the award-winning Japanese restaurant, Toko Surry Hills as their Head Pastry Chef, where she discovered her passion for Japanese fusion cuisine. She then moved on to a Head Chef role at Elk Bar & Restaurant in Potts Point before gaining experience in front-of-house operations and becoming Venue General Manager of a multi-level bar and restaurant in Sydney CBD, The Belvedere Hotel.
She has continued studies throughout and has high-level certifications in hospitality management, frontline management, business, and small business management as well as several industry-related short courses. She is a certified Food Safety Supervisor and has been responsible for food safety training of many employees at multiple levels.
Caitlin's expertise in food & hospitality management are complimented by her partner Petros' skills in hospitality as well as advertising photography, creating an amazing dynamic within the Shiso Fine team. Their combined experience allows them to cater to any type of event as not only a food truck, but a full catering experience. Prior to building the food truck, Caitlin ran her own catering business catering for all types of functions. Expanding this operation into a mobile kitchen has allowed them to now cater for private functions of up to 200 people and public events with over 60,000 people in attendance.
After their travels to Japan in 2014, Caitlin & Petros rediscovered their love for Japanese cuisine and are constantly working on developing new and interesting twists on classic dishes. Through the food truck, Shiso Fine, they hope to bring their love and passion for quality food to the people of Sydney.
MAKE YOUR SPECIAL DAY UNIQUE
Hiring a food truck to cater your wedding can add a whole new dynamic to your big day. It creates that "festival vibe" that we all love and allows your guests to see exactly where their food is coming from.
WHY SHISO FINE?
Shiso Fine offers flexible catering services and can serve up to 200 people from the one mobile kitchen. All events are catered directly from our custom owner-built food truck and adds an element of colour to any setting with it's creative Japanese design.
All food is served by our professional waitstaff from the truck to your guests and is always cooked fresh and easy to eat with one hand (so you won't need to put your champagne down).
WHAT DO WE OFFER?
Shiso Fine has a range of Asian style, handcrafted canapés, substantial canapés, mains and desserts available to ensure your food truck wedding has a touch of class and mouthfuls of joy.
FIND OUT MORE…
To see more about how Shiso Fine can cater your wedding day, please fill out the CONTACT FORM below with your details and someone from our team will get back to you as soon as possible with a functions pack.
Contact
For all enquiries, please fill out an enquiry form with details of your event or you can call us on 0408 445 415 and we will respond as soon as possible.
Follow us on social media:
Facebook: shisofinetruck
Instagram: @shiso_fine
Twitter: @shiso_fine